Our panoramic restaurant, much praised by locals and tourists alike, offers you a rich selection of international dishes. Of course, you will also find vegetarian and some vegan dishes on our menu.
Due to our origin, some hearty Bavarian meals may not be missing either.
From the restaurant terrace you have a breathtaking view of the entire "Sacred Valley" to the National Park "Podocarpus".
Breakfast
Our healthy and substantial breakfast for $4.50 per person includes fresh fruit salad with homemade yogurt and cereal. Plus a variety of homemade breads with margarine and jam.
To drink, there's a freshly prepared fruit juice, as well as coffee from our own organic cultivation and a selection of different teas.
On request you can also get extras such as 2 eggs, pancakes,ham, izhcayluma honey from our own bees or cheese for an extra charge of 1.50 USD per serving.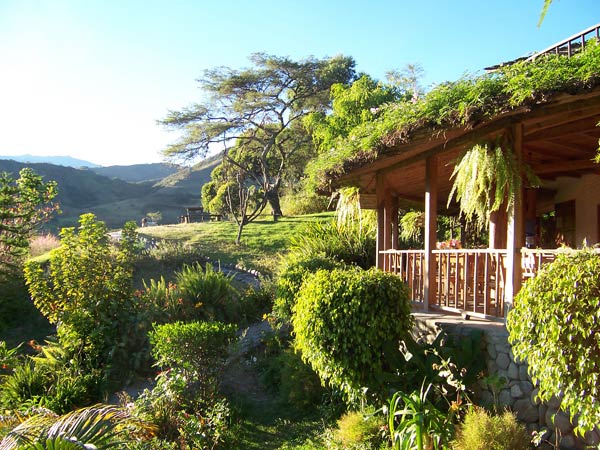 Restaurant
What are the opening times of the restaurant?
Breakfast : 7:00 – 10:00 hrs
Lunch : 13:00 – 17:00 hrs
Dinner : 17:30 – 20:30 hrs (Deadline for the last order)
Are there any vegetarian / vegan dishes?
We have an ample selection of vegetarian dishes and a smaller one of vegan dishes.
Where do we source our ingredients?
As much as possible, our cuisine is supplied by local homegrown farmers.
Coffee, honey, various vegetables and fruits come from our own ecological cultivation. Bread, yogurt, muesli and our soya meat are homemade. The milk comes from the neighbor and is brought to us every morning after hand milking. Fresh from the cow into her coffee. The cheese comes from the indigenous people of Saraguro.